Beverages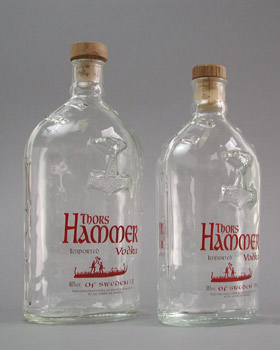 If your business is liquid assets, we can recommend the best place to keep it: In glass. Glass is beautiful. It is protective, both from the inside and from the outside.
Glass can be formed in nearly any shape. Fitted for any type of filling machine. Used, returned, washed, used again or recycled into a new bottle. Glass – a packaging concept that speaks for itself.
BEWAPACK AB is working with two of Europe's leading glass producers Heinz-Glas and Wiegand-Glas. We can offer glass containers in all sizes and shapes from 20 ml – 2000 ml. We work with everything from virgin glass (Heinz-Glas) up to 85% recycled glass (Wiegand-Glas) and we can offer both standard and custom-made products.
Technically we are very advanced when it comes to design, decoration and developing of new and lighter glass containers. So if you are looking for a glass container you don't have to look far. Just contact us at Bewapack and we will help you find or design the perfect packaging solution according to your needs and requirements.